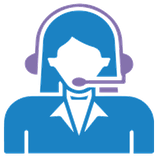 Customer Service
Customers are vital for all businesses. Meeting their individual needs effectively and efficiently often results in repeat business
Our short courses in customer service will help learners to master the skills needed for outstanding customer relationships.
Customer facing roles require people to possess a range of qualities that help build rapport with customers. Knowing how to communicate correctly, behave appropriately and positively interact with customers are skills all good customer service professionals need. 
Our customer service courses will allow you to understand the practices and principles of good customer service. This includes how to deliver customer service in different scenarios, such as in person, on the phone and through online channels.
A key element of customer service is knowing how to problem solve and how to identify and implement the right techniques to help resolve any issue with customers, so these courses are an ideal way for learners to boost their skills.
These courses are suitable for anyone working in customer service, or for anyone wishing to move into a customer service role.
Available Courses
Select a course below to learn more
Level 2 Certificate in Principles of Customer Service
Level 2 Certificate in understanding retail operations
Funded by
Many of our courses are delivered with funding partners including Skills Support for the Workforce - part of the Growth Company, Greater Manchester Combined Authority and the European Social Fund.