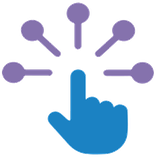 Digital Skills
Our digital courses will allow learners to build professional skills in areas covering spreadsheets, word processing and using IT in the workplace
Technology is used in all types of businesses and it is increasingly important to know how to use the latest information technology in the workplace. From using email software to communicate with colleagues and customers, to presenting information in various formats including documents, presentations and reports, these courses will provide a comprehensive understanding of digital technology.
Many IT tools can help to improve productivity and efficiency in the working environment. Our digital courses will help learners understand the wide range of systems available and which are most suitable for particular tasks.
Some courses will help learners to manage information, process data and to comprehend the legal and regulatory aspects surrounding data.
When using technology and software, it's important to keep information safe and secure, and these courses will explore the tools available to help learners to communicate, collaborate and to comply with best practice when using technology. 
Upon completion, these courses will allow learners to demonstrate a range of professional skills including digital literacy and using IT in the workplace.
Available Courses
Select a course below to learn more
Level 2 Certificate in IT User Skills
Funded by
Many of our courses are delivered with funding partners including Skills Support for the Workforce - part of the Growth Company, Greater Manchester Combined Authority and the European Social Fund.