Project Management Apprenticeships & Qualifications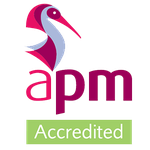 About Project Management 
Project Management is a highly rewarding and varied career, where you'll plan, lead and deliver successful projects for an organisation. 
These projects can vary in length and be for a variety of different industries, but they'll all help to improve an organisation. Every project needs to be managed to make sure it's successful. An Associate Project Manager knows what needs to be achieved and the steps to take and will work with the project team to get the right result. 
Typical skills needed for Project Management 
Project Managers are skilled in bringing people together to work as a team with clearly defined roles and responsibilities. 
We're one of the few providers to offer this apprenticeship, which includes a Level 4 Association for Project Management (APM) Project Management Qualification. By studying the APM part of this apprenticeship, you'll get the insight and expertise of the only chartered body for the project management profession. 
The apprenticeship covers:  
Project leadership 
Project governance 
Stakeholder management 
Communication 
Consolidated planning 
Budgeting and cost control 
Business case and benefits management 
Project scope 
Project schedule 
Resource management 
Project risk and issue management 
Contract management and procurement 
Project quality 
Project context 
How do you get into Project Management? 
You don't always need academic qualifications, but you'll need a good standard of education, such as GCSEs, including English, maths and ICT. 
Being able to manage projects successfully is a skill that many employers look for, so you don't have to want to become a Project Manager to benefit from this apprenticeship. 
Register your interest
Register your interest using the form below and one our team will contact you.
Associate Project Manager Level 4
SHOW MORE SHOW LESS
What qualifications will you gain? 
Level 4 Associate Project Manager Apprenticeship Standard  
Association for Project Management Level 4 Project Management Qualification  
Entry Requirements 
Individual employers will set their own entry requirements for their apprentices.  Candidates will usually need five GCSEs at Grade 9-4 (or equivalent) - including English and maths - and hold of a minimum of 120 UCAS points (or equivalent). 
Cost 
This will depend on the size of the employer but you can discuss this with one of our friendly team. 
Length of the course 
15 months plus three months gateway